Mayank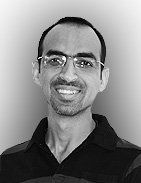 A senior commercial manager during the week, a philanthropy inclined yoga teacher over the weekend and a yoga ambassador round the clock, Mayank is the founder of Yogasmriti. A certified teacher from Sivananda Yoga Vedanta Centre, he has been practising for nearly 20 years and started teaching in 2004. He has taught in various locations across Dubai, Doha and Sri Lanka.
Mayank's classes are inspired from a multitude of 'schools' and 'forms,'however at the core is a Sivananda 'attitude' and classical Hatha Yoga approach. Mayank's personal practise is founded on the principles of Abhyasa [persistent practise], Swadhyaya [self-study] and Seva [service].
From Abhyasa comes the commitment to daily dedicated 'mat-time'. A sanctuary and laboratory that is sacred and transformational.
From Swadhyaya comes his love for linking the roots of yoga to the practise on the mat – to provide a reference for the inner life of the asanas. All classes end with a story session on the myth associated with a chosen 'asana of the day'.
And from Seva comes the desire to give back and contribute to the community through Yoga. Proceeds from the classes are directed to charitable organisations and humanitarian causes. Read more on Giving Back
Mayank believes yoga is all encompassing and has something for everyone. As long as you can breathe you are welcome to his yoga class – irrespective of your age, shape or religious beliefs.
To view Mayank's teaching credentials please click on Diploma. To learn more about Sivananda Yoga Vedanta Centres please access Sivananda Ashrams