Gurus
Salutations to the Gurus
Om Bhagavan Shri Bahgavan
Ananda Bhagavan Sivananda Bhagavan
Om Bhagavan Shri Bhagavan
Ananda Bhagavan Vishnu-Swami Bhagavan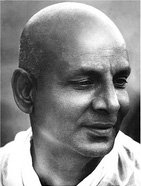 Sivānanda Saraswati (September 8, 1887 – July 14, 1963) One of the greatest Yoga masters of the 20th century, Swami Sivananda, is the inspiration behind the Sivananda Yoga Vedanta Centres. The teachings of Master Sivananda are summarized in these six words: Serve, Love, Give, Purify, Meditate, Realize.
Sivānanda was born Kuppuswamy in Pattamadai near Tirunelveli in Tamil Nadu, India, as the third son to his parents on 8 September 1887. As a child he was very active and promising in academics and gymnastics. He attended medical school in Tanjore, where he excelled. He ran a medical journal called Ambrosia during this period. Upon graduation he practiced medicine and worked as a doctor in Malaya for ten years, with a reputation for providing free treatment to poor patients . Over time, a sense that medicine was healing on a superficial level grew in him, urging him to look elsewhere to fill the void, and in 1923 he left Malaya and returned to India to pursue a spiritual quest.
Over the course of his spiritual journey Swami Sivananda became one of the most prolific Yoga teachers to have ever existed. Although he rarely left the little town of Rishikesh his teachings and influence spread throughout the globe. He authored more than 200 books on topics connected to Yoga and Philosophy.
Sivānanda died on 14 July 1963 in his Kutir on the bank of the Ganges, in Sivanandanagar.
_____________________________________________________________________________________________________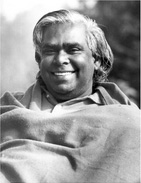 Vishnudevananda Saraswati (December 31, 1927 — November 9, 1993) was a disciple of Sivananda Saraswati, and founder of the International Sivananda Yoga Vedanta Centres and Ashrams. He established the Sivananda Yoga Teachers' Training Course, one of the first yoga teacher training programs in the West. His books The Complete Illustrated Book of Yoga (1959) and Meditation and Mantras (1978) established him as an authority on Hatha and Raja yoga. Vishnudevananda was a tireless peace activist who rode in several "peace flights" over places of conflict.
Vishnudevananda entered the Sivananda Ashram in Rishikesh in 1947 at the age of twenty. He took sannyas (became a monk) and was appointed the first professor of hatha yoga at the Sivananda Yoga Vedanta Forest Academy. In this capacity, he trained scores of Indian and Western students. At the same time he continued his own practice, mastering advanced hatha yoga techniques.
Vishnudevananda condensed the teachings of classical yoga into five principles: proper exercise, proper breathing, proper relaxation, proper diet, meditation and positive thinking. The Sivananda Yoga Vedanta Organization founded by Vishnudevananda has centers and ashrams around the world. It is one of the largest training bodies of yoga teachers in the world, having produced over 28,000 graduates since the Sivananda Yoga Teachers' Training Course was first inaugurated in 1969. His motto was, "Health is Wealth. Peace of Mind is Happiness. Yoga Shows the Way."
Vishnudevananda died on November 9, 1993. His body was then placed into the Ganges at the Sivananda Kutir